When:
18. May 2019 @ 09:00 – 13:30
Europe/Berlin Timezone
2019-05-18T09:00:00+02:00
2019-05-18T13:30:00+02:00
Where:
New European College
Wolfratshauser Str. 84
81379 München
Germany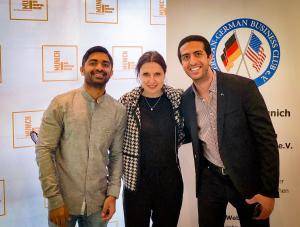 New European College is thrilled to host the annual American German Business Club (AGBC) Exchange. This networking event for Munich's professionals includes a series of workshops on key topics, from business and technology to personal development. Speakers will be sharing their expertise and/or passion with AGBC members and guests.
Please join us for a great Saturday morning with abundant opportunities for business networking. Make sure to bring plenty of business cards ! The meeting price of €10  will be paid at the door – NEC students are FREE! Entry includes a includes a light lunch. Receipts will be available. Online registration is needed to assure sufficient seating and to arrange lunch: https://www.agbc-munich.com/events/2019-agbc-exchange-i-agbc-munichs-top-event-of-the-year/.
During the day, attendees can participate in 10 presentations and/or workshops on a variety of business, personal development and general interest topics such as:
-Creativity in Problem Solving
-Happiness
-Highly Sensitive People at Work
-Software for Small Businesses
-Profit and Joy in Disruption
…and many more!
Lunch will be provided!
🔗Register to join this event via the AGBC site: https://www.agbc-munich.com/events/2019-agbc-exchange-i-agbc-munichs-top-event-of-the-year/
⚠️⚠️STUDENTS: When registering, please enter "NEC Student Free Entry" in the comments section! ⚠️⚠️
Questions: munich@agbc.de