NEC Industrial Visit
Bavarian State Library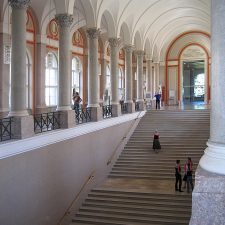 Join us for a visit to the Bavarian State Library (Bayerische Staatsbibliothek)! This library tour is specifically aimed at graduating students who are in the process of writing their final thesis. The tour will be performed in English by a highly qualified librarian who will show students how to use the library and its numerous resources. These include: books, magazines and databases that provide free access to academic articles.
We look forward to having you join us!
🗓 Date: This visit will take place on Friday, 31 May 2019
📍Meeting Point: Please meet no later than 9:45 AM, inside the library, downstairs, in front of the big stairs:
Bayrische Staatsbibliothek
Ludwigstr. 16, Munich, Germany
Transportation: U6/U3 Ubahn to the 'Universitaet' train station.
For questions, please contact Ms Lydia Siebler:
Email: communications@new-european-college.com
Tel: +49 (0) 89 8130 2018
Library Tour Registration Form
---