Business students learn within their first few weeks at New European College that entrepreneurship is a mindset; It involves looking at every day phenomena from new perspectives and challenging the norm. Behind each startup is a team of entrepreneurs, dedicated to innovation. While New European College ensures that students gain a theoretical understanding of this through their lectures and core curriculum, it is also committed to enhancing our students' education with practical and experiential learning.
New European College subsequently kicked off the Summer Semester Industrial Visit Series with a visit to Electrochaea, an early stage, dynamic biofuel company headquartered in Munich. Students were thrilled to receive an invitation to visit Electrochaea and learn more about their disruptive technology and innovative business concept. Arranged by NEC lecturer, Vittorio Tagliabue, students were given a behind-the-scenes tour of Electrochaea's laboratories, and the opportunity to sit at the conference table to discuss the company's business model and strategy with members of the leadership team.
According to CFO Francesco di Bari, Electrochaea's proprietary power-to-gas technology developed from 'looking for life in places where life should not exist'. In discovering the power (literally) of archaea  – one of planet Earth's oldest organisms – a cutting-edge process to convert electricity and carbon dioxide into pipeline-grade renewable gas was born. Today, Electrochaea is providing commercially viable and disruptive solutions for utility-scale energy storage, grid balancing, and carbon reuse.
Besides a feeling of deep inspiration, students walked away eager to learn more about sustainability and how, as business students with budding entrepreneurial ideas, they can contribute.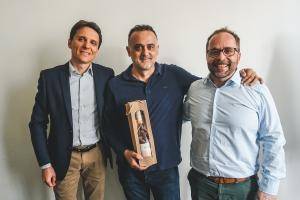 New European College thanks NEC lecturer Mr. Vittorio Tagliabue for arranging this visit, as well as Mr. Francesco di Bari and Uwe Würtenberger for hosting us at Electrochaea!
View NEC's Events page to learn more about upcoming events for our students and community.