Bachelor of Business Administration (BBA)
The Bachelor program prepares you with the knowledge & understanding of the essential aspects of business theory and practice for a successful career in business administration and entrepreneurship
Degree Awarded
A Dutch degree of Bachelor Business Administration (240 ECTS) awarded by Wittenborg University of Applied Sciences in the Netherlands  
Program Duration
6/8 Semesters (3-4 years)
The programs are offered in 6 and 8 semester tracks, the 6 semester track (80 credits per year) can be followed by highly motivated students.
Intakes
Application Deadline – 7th of December
Application Deadline – 15th of February
Application Deadline – 4th of April
Application Deadline – 23rd of May
Application Deadline – 5th of September
Application Deadline – 17th of October
The Bachelor of Business Administration degree program is designed to equip you with the knowledge & understanding of the essential aspects of business theory and practice. Through our courses, students are immersed in a wide-range of topics, such as Marketing, Finance, Economics, Entrepreneurship and Communication. Case-studies, project work, corporate visits, guest speakers and networking events are integrated in the courses, along with project weeks, allowing you to test and continually apply what you've learned in the real world with companies and industry professionals.
To further refine the skill-set needed to be a successful manager, foreign language courses and a mandatory internship, together with additional communication workshops and management seminars accompany your studies.
Whether global corporations, small & medium size, or family businesses –  all companies are your potential employers after the successful completion of our bachelor degree program.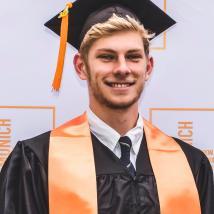 NEC has been a great place to learn and grow. I have learned a lot about myself and the friends I have made here at NEC will be friends for life!
William Exner (BA '19, Australian)
Financial Services Management
Marketing & Communication
The school year at New European College is divided into two terms – Winter Term and Summer Term, and six main blocks which last six weeks each. Each six-week block consists of two lesson weeks, followed by a project week, then two more lesson weeks, followed with an exam week, to complete the module.
Languages and Project Weeks are a key components of the Bachelor program. Language courses are offered at the start of each term for the full three blocks. During Project Week, students have the opportunity to work in teams on a practical case or simulation with the goal to present a final 'pitch' and evaluate their experience at the end of the week.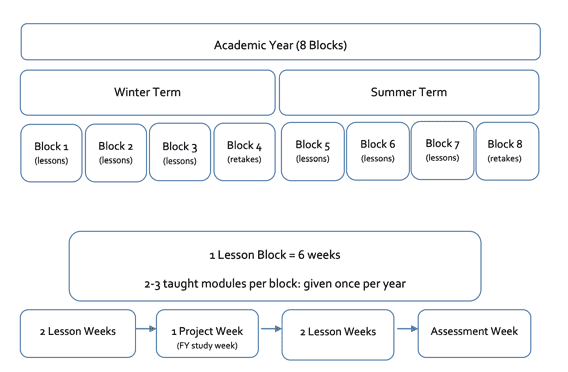 Secondary School Degree
Please contact our Admissions Team to receive High School diploma comparisons (Advanced Placement / Credit Transfer Possible)
English Language Requirement
Academic IELTS 6.0 or equivalent. Click here for an overview of the equivalent scores.
If the student's Academic IELTS score is not sufficient and they have a minimum score of 5.0, they can receive a conditional acceptance to the Bachelor program and must participate in a Business English Preparation Program. Once the student passes the Academic IELTS with 6.0 (Bachelor) they can enter their respective program at the next intake.
Please contact our admissions department for further information. (admissions@new-european-college.com) 
Ready to apply for entry to New European College? Here are the materials you will need to provide when submitting your online application:
Letter of Motivation (800 words)
Curriculum Vitae
Academic IELTS (Minimum 6.0 or equivalent)
Academic Transcripts & Certificates
Color Copy of Passport, including the Information & Photo Pages
Color Passport Photograph (not older than 6 months)
Diagnostic interview: An interview conducted on campus or via Skype by the NEC admissions team to determine the intention, motivation and aptitude or the applicant
Application Deadline: International students who do not live in the European Union (EU) must apply 6-8 weeks before the entry date of choice. Students living in the EU must apply 2-4 weeks before the entry date of choice. In case the student does not apply before the deadline, their application will be automatically changed into an application for enrolment to the next block, unless they desire otherwise. In individual cases, an application can be expedited.
Please feel free to contact us via the form below with any questions you have! Our admissions team is very happy to provide you with a free consultation to help you find your perfect program.
Contact Our Admissions Team
We look forward to hearing from you!