Master of Business Administration (MBA)
Experienced individuals from diverse backgrounds pursue an MBA. Entrepreneurs & business professionals looking to achieve higher roles & responsibilities within the organization enrich and sharpen their business knowledge, leadership, management & networking skills through the NEC MBA Program.
Degree Awarded
A Dutch degree of Master of Business Administration (90 ECTS) awarded by Wittenborg University of Applied Sciences in the Netherlands
Program Duration
3 Semesters (18 Months)
Intakes
Application Deadline – 19th of October
Application Deadline – 21st of December
Application Deadline – 8th of February
Application Deadline – 28th of March
Application Deadline – 18th of July
Application Deadline – 5th of September
Work Experience
3 years professional experience, following the completion of a bachelor degree
The Master of Business Administration (MBA), has become the academic career boost for both entrepreneurs and corporate workers. Globalization demands MBA graduates with a truly international business education.
With our MBA you will gain the necessary skills and tools to be able to take over challenging positions with managerial responsibility. For students without previous education in business, the MBA is the perfect program to qualify yourself for managerial positions.
Our MBA connects theory and practice and is taught by instructors with significant experience in their profession. Small groups allow for a very interactive education. As our MBA students need to first have job experience to be able to enroll, the individual experiences and backgrounds of each and every student make classes even more enjoyable. Our faculty members use activating elements such as case studies, simulations, projects, and presentations to give every student an opportunity to easily connect the gained knowledge with their personal experiences.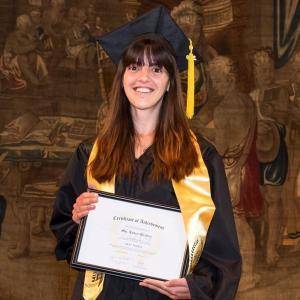 Pursuing my MBA at NEC was a very enriching experience. It provided me with a profound skillset and understanding of the business world, which increased the job offers I received before my graduation. I also made valuable friendships during my time on campus!
Laura Driuzzi (MBA '19, Argentina)
Entrepreneurship & Innovation
The school year at New European College is divided into two terms – Winter Term and Summer Term, and six main blocks which last six weeks each. Each six-week block consists of two lesson weeks, followed by a project week, then two more lesson weeks, followed with an exam week, to complete the module.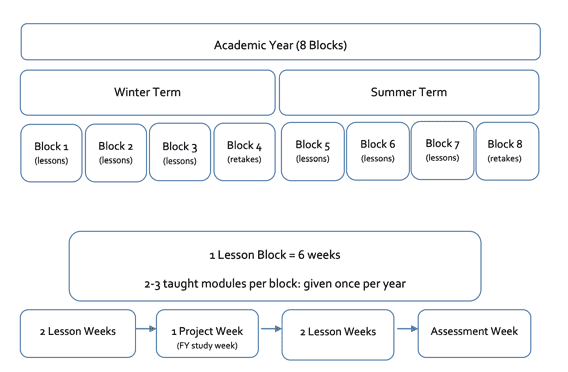 Bachelor degree
English Language Requirements
Academic IELTS 6.5 or equivalent. Click here for an overview of the equivalent scores. The TOEFL Code of Wittenborg is 4889.

If the student's Academic IELTS score is not sufficient and they have at least a score of 6.0, they can receive a conditional acceptance to the MBA program and must participate in the one-semester Pre-Master program. Upon successful completion of the Pre-Master program, the student can enter into the MBA program at the next intake. If the student chooses to complete the Academic IELTS during their Pre-Master program and achieves a score of 6.5 or higher, they can enter into their respective program at the next intake. Learn more about the Pre-Master program here.
3 Years Professional Work Experience
The applicant must have completed three years of professional work experience, after graduating from a bachelor degree, in order to be eligible for this program
​Applicants are requested to provide 2 reference letters: 2 from their Employer OR 1 Academic and 1 Employer
Ready to apply for entry to New European College? Here are the materials you will need to provide when submitting your online application:
Letter of motivation
Curriculum Vitae
Academic IELTS (Minimum 6.5 or equivalent)
Academic Transcripts & Certificates
2 Reference Letters: 2 from their Employer OR 1 Academic and 1 Employer
Color Copy of Passport, including Information & Photo Pages
Color Passport photograph (not older than 6 months)
Diagnostic interview: An interview conducted on campus or via Skype by the NEC admissions team to determine the intention, motivation and aptitude or the applicant
Application Deadlines: International students who do not live in the European Union (EU) must apply 6-8 weeks before the entry date of choice. Students living in the EU must apply 2-4 weeks before the entry date of choice. In case the student does not apply before the deadline, their application will be automatically changed into an application for enrolment to the next block, unless they desire otherwise. In individual cases, an application can be expedited.
Please feel free to contact us via the form below with any questions you have! Our admissions team is very happy to provide you with a free consultation to help you find your perfect program.
Contact Our Admissions Team
We look forward to hearing from you!