On 22 May, a group of Master and MBA students visited the Swiss biofuels company Clariant. Organized by NEC lecturer Mr Vittorio Tagliabue, students had the opportunity to tour the Munich offices of the company.
Mr Paolo Corvo, Clariant's Head of Sales and Marketing, welcomed our students and team members with an insightful presentation which included an overview of the company itself, as well as their business model, business opportunities and an in-depth look into Clariant's disruptive Sunliquid® process. Throughout the presentation, our students engaged in discussions with Mr Corvo, as he talked about how Clariant has created a sustainable and holistic process for the extraction of Bioethanol, which revolves around the break down of agricultural residues and reduces the cost of raw materials.
With Clariant's innovative business model, the company can produce bioethanol, bioplastics and fertilizers – and even some of the "waste" products of the Sunliquid® process are used for energy generation. After the eye-opening presentation where students learned about cost optimization, innovation and the integration of external agents into the business process, one of Clariant's mechanical engineers gave us a tour of their laboratories where students got an up close view of the Sunliquid® process in action.
To conclude our visit, Mr Corvo gave students helpful business tips and offered support for those interested in pursuing a future career in the biofuels industry.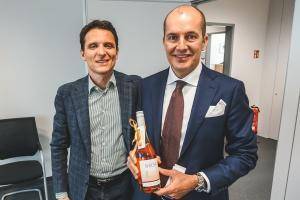 New European College thanks NEC lecturer Mr Vittorio Tagliabue for arranging this visit, as well as Mr Paolo Corvo and Clariant AG for hosting us!
View NEC's Events page to learn more about upcoming events for our students and community.
– Maria Plata (Marketing Intern)
---
Highlights from the NEC Industrial Visit to Clariant