Meet Ronja, the Newest Member of Our Admissions Team!
28. July 2023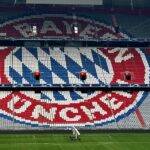 Educational Expedition: Students Analyze Marketing Strategies at Allianz Arena and FC Bayern Museum
27. September 2023
Dear Friends of New European College,
We humans are fascinating creatures.
This end of summer and the corresponding return to school is for me on the 48th. Yes, you read correctly, 48. Having started school in 1975 and having only one year between graduating and starting to lecture at university it has been 48 times.
One would think that it gets boring, but it is still for me more exciting than birthdays, normal at my age, or New Year's Eve, also normal at my age.
It is the combination of the bittersweet end of summer and the excitement of meeting new students, and new colleagues and again embarking on academic adventures and expeditions.
This all paired with the beautiful autumn in Munich and the Octoberfest, which starts in September and ends at the beginning of October (yes, I suppose, one could call that Bavarian humor, but it really has to do with the beautiful weather in Munich in September.)
For all of us, Summer, is a momentary return to a more relaxed life, even if we have been working, as in general people are in a better mood and that twinkle of summer break is in our hearts and eyes.
This summer for me was a reading summer as I finally had the time to catch up with my reading list for all of you who still have a moment left for summer reading, I have three recommendations for you:
Crazy, funny, and thrilling: The Hundred-Year-Old Man Who Climbed Out of the Window and Disappeared by Jonas Jonasson
Perfect for our times: Hyperfocus – How to Manage Your Attention in a World of Distraction by Chris Bailey
For the summer mind and a quick read a new James Bond Book: On His Majesty's Secret Service by Charlie Higson
As you can see, I always use the sandwich technique for my summer reading, a fiction book followed by a non-fiction book. Always works to mix it up.
On this note, I have come to realize that the attention economy we live in makes it hard to focus. Having the peace and quiet of the summer, I was able to observe the people around me and it came to my attention that regardless of where people are, smartphones and especially social media is grabbing their attention so hard, they barely realize when they are standing in the middle of a beautiful forest or on a beautiful beach. And even if they realize it, the first thing they do is take a picture and post it in social media. Trust me during my travels, this summer I saw more people posing and posting than people reading books. And even if they realize it, the first thing they do is take a picture and post it in social media.
Sadly, it has become a common phenomenon that the audience at concerts don't clap as they are too busy taking pictures. A very awkward silence for the artists.
Please don't get me wrong; I love social media, but as the saying goes, it's the dose that makes the poison.
Reflecting on this summer and the upcoming academic year, I can only repeat the much-preached recommendation, to try to regain your independence from your smartphone and social media and relearn to focus on your surroundings and the important things in life such as the laughter of friends, a beautiful sunset, a good book and an interesting conversation.
We are fascinating creatures, and we are living in a fascinating world, we can choose if we want to enjoy the real-life moments or the digital representations of them.
To the students embarking on this new chapter at New European College, remember that education goes beyond the walls of our institution. It's also about the life lessons you learn, the connections you forge, and the memories you create. The real essence of education and life lies in being present and absorbing every experience to its fullest.
Wishing us all a great start to the new academic year,
I send you my best regards,
Sascha Liebhardt