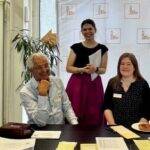 18th Annual AGBC Exchange Hosted at NEC
28. April 2023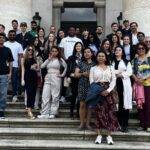 The Economic Success of Munich – All Thanks to the Opera?
9. June 2023
Dear NEC Community,
With great pleasure, we extend our warmest congratulations to our IU students who have successfully completed their MBA journey. As we bid farewell to their student days, we look forward to witnessing the impact they will make in their future endeavors.
Completing an MBA program is no small feat, and their achievements deserve to be celebrated. They have showcased exceptional skills in leadership, critical thinking, and problem-solving, setting an inspiring example for current and future NEC students.
As these graduates embark on the next chapter of their professional lives, we extend our best wishes for their future endeavors. May the knowledge and experiences gained during their time at NEC serve as a solid foundation for their future pursuits. We are confident that their acquired skills and insights will enable them to navigate the complex business landscape with wisdom, resilience, and innovation. The NEC community eagerly awaits the positive impact they will undoubtedly make in their chosen paths.
At NEC, we take immense pride in the achievements of our students and the enduring legacy of our alumni. Each success story further strengthens our commitment to providing world-class education and fostering an environment conducive to personal growth and professional excellence. These graduates, along with our remarkable alumni, contribute to the rich tapestry of NEC's history, and we are honored to call them part of our community. Their accomplishments serve as a testament to the quality of education and support provided by NEC.